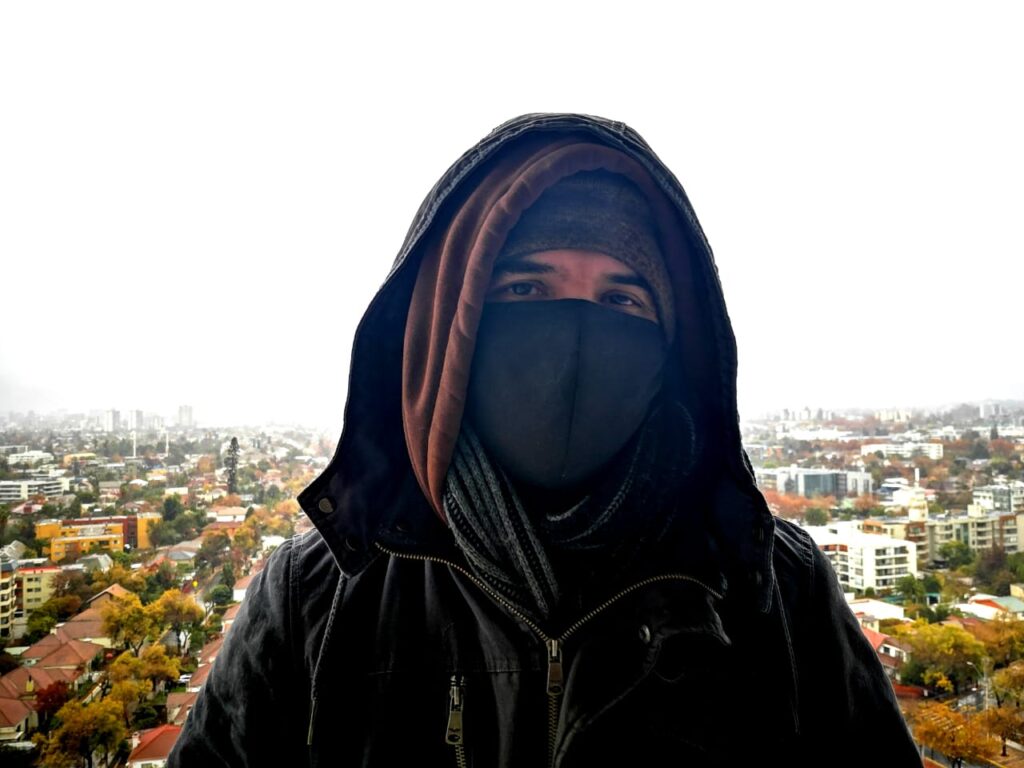 BABY BROWNI
I went back to my home town a night en que la luna se escondía a lo lejos in the sky, a very few lights provocaban sombras de efímera presencia in the empty streets. The moon también se reflejaba in da lake out of town. But por donde descendía no había ni luz de luna, ni farolas, ni nada, only my steps que daba con mis Jordan Air viejos y gastados. A scream. Again, a focking scream. I stoped in a corner, saqué un mi cigarro y lo encendí. I was very pinche tired. El camino había sido largo.
In States, they call me el Crazy Horse, porque durante un tiempo me gané la vida boxing –you know my friend– clandestinamente. En Guanatos never won nimadres, ni siquiera el world championship of boxeo de mi barrio, pero ahí andaba haciéndole a la mamada de este lado donde only one chorizo I won, esa onda. Mi fama sólo trascendió los barrios bajos de Brooklyn, lugar donde emigré a los 18 años y, ahora, diez años más tarde, volvía a mi home town, deportado por la política dura de Trump frente a nosotros: los brownis, los beaners, los wetbacks, los nobody.
En Niuyor trabajé of everything, de ayudante en las kitchens, dishwasher, wachador de ranflas, lustrador de cacles, encargado del aseo en un skyscraper, en fin, me tocó trabajar de todo lo que me diera algunos bucks para sobrevivir –you know man, everything for a cora–. Pero una noche en que volvía del turno of midnight en a factorya de aceros al otro lado del Hudson River, escuché unos quejidos, raros y poco audibles. Algo como el quejido de un animal provenía de un contenedor de basura. I trew my grifa y me aproaché al contenedor, mi baja estatura me impedía asomarme por completo y, desde el ángulo que estaba parado, no podía observar nada. Los screams fueron en aumento. Decidí colocar some boxes que estaban al costado del contenedor para poder hurgar entre la garbage. Si en un principio dudé que eran quejidos de un baby, conformé removía la basura, se fue aclarando un llanto seco y mudo, like I never heard before. Y de repente, ahí estaba, a fucking baby envuelto en toiler peiper inside a bag of Wallmart. A decir verdad, yo nunca había visto un bebé recién nacido, mucho menos sabía que podían ser tan pequeños and fucking uglys. Decidí sacarlo para echarle una mejor wachada, así que me tiré de bruces sobre la basura, lo halé hacia mí y dejó de llorar un poco. Aún tenía un pedazo del cordón umbilical colgando. Eran un brawni, sin duda, tenía la nariz chata, los labios gruesos y las orejas grandes, el cabello negro azabache como la obsidiana de mi pueblo, alguna hommi debió botarlo por aquí, en todo caso no era mi bisnes, and whata a fuck it supoust to I have to do con un pinche baby browni, que ni sabía de quién chingados era, ni si me traería algún fcking trbl. A la chingada –I said to my self−, así que lo volví a colocar donde estaba, pero el bebé volvió a scremear again, esta ocasión mucho más lauder.
And now estoy a escasos metros de la casa de la Jenny, and what I gonna tell her, si ni tiempo tuve de avisarle que me devolvía de los Estates. And what I gonna tell her si lo único que traigo es mi morral con unas pocas cosas. And what I gonna tell her si cuando me fui estaba embarazada de la Yesenia, nuestra hija, que nunca conocí. And what I gonna tell her si dejé de mandarle feria a los dos años. And what I gonna tell her si no tengo ni dónde caerme muerto. And what I gonna tell her si me fui con una promesa y fallé. Y qué le voy a decir si ahora no vengo solo.
Nota: Este es el título y versión original del cuento, el cual fue tomado de su libro Wachame homi, Dos Pasos Press, 2018.
[Mike Pedregosa nació en Brooklyn, Nueva York en 1987. Hijo de una familia mexicana de migrantes, Mike nunca realizó estudios formales de ningún tipo, se considera a sí mismo autodidacta. Sin embargo, sus cuentos han sido publicados en algunas revistas locales y nacionales debido al uso constante del spanglish en ellos, reafirmando la identidad chicana. Ha publicado solamente un libro de cuentos llamado Wacheame homi (2018).]